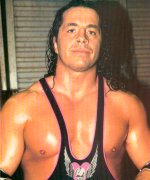 Bret "The Hitman" Hart is a wrestler who truly has wrestling in his blood. Born in Calgary, Alberta, Canada in July of 1957 to Stu and Helen Hart, this youngster followed in his dad's bootsteps and pursued a career in pro wrestling. He became a student of the game not only through watching his dad in the ring, but by also attending his father's wrestling school, The Dungeon, which was located in the basement of the Hart household. The Dungeon has produced many wrestling successes over the years, such as Chris jericho, Chris Benoit, "Rowdy" Roddy Piper, Jim "The Anvil" Neidhart, and Davey Boy Smith, but none can compare to Stu's star student, his own son, Bret.

"The Hitman" hit the amateur grappling circuits in his early teens, where he won city and provincial championships in 3 different weight classes and then would turn pro at the tender age of 21, debuting against a wrestler by the name of Dennis Stamp. Having learned the tricks of the trade early on from his Hall-of-Fame father, Bret mastered the fundamentals of wrestling and would quickly move up the ladder of each federation he joined. He would make a name for himself in Canada as a champion in the Hart-promoted federation known as Stampede Wrestling. From there he would make stops in the AWA, NWA, and also on the Japanese and European circuits, honing his skills.

Then, in 1984, he received the call he had been waiting for all his life. The owner of the World Wrestling Federation, Vince McMahon, wanted the Calgary native to come join his federation as a babyface wrestler. Hart immediately took the WWF head honcho up on the offer, but he didn't remain a face for long as "The Hitman" was paired with his brother-in-law Jim "The Anvil" Neidhart, and the 2 of them would wreak havoc on the WWF as members of the Hart Foundation along with their manager Jimmy "The Mouth of the South" Hart.

Ironically, the Hart Foundation began a feud with the British Bulldogs, which was comprised of the Dynamite Kid and Davey Boy Smith, not only another graduate of the Dungeon training program, but also another Hart brother-in-law. Neidhart and Hart would capture their first tag title from the Bulldogs on January 26, 1987, in Tampa, Florida.

While Hart went on to win another tag title in his WWF tenure, all throughout his stay in the federation he had but 1 title on his mind-- The world heavyweight championship. In stunning fashion, the technically sound and powerful wrestler copped the ultimate WWF prize an impressive 5 times during his 13-year WWF stay. "The Hitman" garnered his first heavyweight championship belt on October 12, 1992, as he defeated the "Nature Boy" Ric Flair in Canada. He would lose the strap to Yokozuna less than 6 months later, but would regain the title from the big grappler on March 20, 1994, in New York. Hart would hold the prestigious title 3 more times in his career, with the last coming on August 3, 1997, against The Undertaker.

Also throw in his 2 Intercontinental belt championships, his 2 King of the Ring titles, his Superstar of the Year honor in 1993, and you have one hell of a federation run. But 1997 would mark the end of his WWF association when he left for the greener pastures of WCW after a bitter falling out with McMahon at an event in front of his hometown Canadian fans.

The good guy wrestler went ballistic on the WWF owner when McMahon turned the tables on him and changed the outcome of a match in Montreal on November 9, 1997, between Hart and Shawn Michaels, causing Hart to lose his title to "The Heartbreak Kid." Even though it was a known fact that Hart was leaving the WWF once his contract expired, he wasn't supposed to drop the belt until December, at least so he thought.

But McMahon had other plans, so when Michaels had "The Hitman" in his own sharpshooter hold, McMahon ordered the bell to be rung, declaring Michaels the winner. Immediately following the bell, Michaels dashed from the ring with a confused look on his face, not knowing what had just happened, but having sense enough to realize that "The Hitman" was not going to be happy about the outcome.

The unhappy camper first took his frustrations out on the Tv monitors at ringside, and then he found the WWF boss and spit right in MacMahon's face on his way back the locker rooms to find and confront Michaels. When he found "The Heartbreak Kid," he questioned him as to what just went on out there, and Michaels claimed to not have known a thing about the bogus bell ringing himself.

Hart would then hunt down McMahon and live up to his Hitman nickname and pummel his boss, thus exiting the federation in a style that "Stone Cold" Steve Austin would be proud of.

Hart made his WCw debut at a Souled Out event, where he faced and defeated former WWFer Ric Flair, taking him out with one of his own deadly sharpshooter moves. Hart was now on his way to another glorious title run. He would start off by garnering the U.S. belt 4 times and then gradually work his way to the top of the WCW mountain by winning the heavyweight championship title on November 21, 1999, against Chris Benoit in front of his family, friends, and fans in Toronto's Air Canada Centre. This win would put him in an elite class of 5-- Ric Flair, Randy savage, Hilk hogan, and Kevin nash-- the only wrestlers to ever have won the heavyweight titles in both the WWF and WCW in their careers.

This awesome grappler would also garner the tag-team championship strap as he teamed with another WCW powerhouse, Goldberg, to win the title on December 7, 1999. Later on in the month he would win his second WCW World Heavyweight title on December 20 in Baltimore, adding more gold to his wrestling legacy.

Throughout his career, Hart has at one time or another been the best and battled the best, Lately, his career has been slowed by severe injuries, and no one is quite certain where that leaves this legendary warrior. Only Hart knows for sure how much he has left in the tank, and only time will tell if he ever graces the ring again with his presence. But one thing that is for certain when it comes to Hart, whether he wrestled as a heel or hero, he always gave his fans their money's worth.

He is so much a class act: to quote his own saying " He's the best there ever is, the best there was, and the best that's ever been or will be."



click here for some history on your favorite wreslters,Chose your poison:

BamBam Bigelow

Booker T

Big Show

Chris Benoit

Y2J

HHH

Undertaker

Hulk Hogan

Sting

The Hardy Boys

Jeff Jarret

Billy Kidman

Kevin "BIG SEXY" Nash

Scott "Poppa Pump" Steiner

Dwayne "THe Rock" Johnson

Lance Storm

X-Pac

Too Cool

Rey Mystrio JR

Kane

Diamond Dallas Paige

The Dudley Boys

Kurt Angle

Ric Flair

Big Boss Man

Shane " The Franchise" Douglas Edge and Christian

David Flair

Mick Foley

Bill Goldberg

Eddie Guerrero

Tazz

Steve "Stoe Cold" Austin

"Playboy" Buddy Rose



Many more to come as i am working on them as you read these!

Here are my other links to other results:

click here for your Raw results!



Velocity & Confidential Results!



click here for your real names and history part 2 report!



click here for the wwf pay per view stuff!



click here for the Smackdown results!



clich here for rumors and news!



Click here for some old memories of some matches!