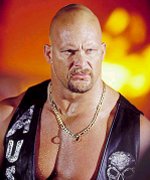 How can anyone so bad be so good? "Stone Cold" Steve Austin has the reputation of beeing the meanest S.O.B. in the business today, but the fans adore him anyway.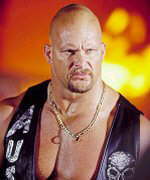 One of the main reasons he is so loved throughout the country is that Steve Austin does what he wants, when he wants, and more impressively, to whomever he wants! Call him what you want. Call him a rebel. I'll agree Call him a loner. I'm right there with you. Call him tough. I've got your back. Call him defiant. I'll second the notion.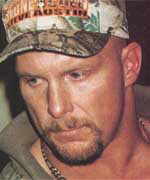 But the best word to describing this hero when of the ring is plain and simple: winner. He has fought his way to the top of the wrestling mountain after many years of blood,sweat and beers--not tears. " Stonecold" doesn't know the meaning of the word cry. Then again, he's made many a grown man cry on several ocassions. Ever since his King Of The Ring victory on June 23, 1996, over Jake "The Snake" Roberts, the world of sports-entertainment has never been the same. This was also the night when the Austin 3:16 moniker was born. Austin read Roberts the riot act after he beat him for the King of the Ring title and, as he recalls, he ad-libbed the whole thing. "So, after i beat Jake, he was walking up the aisle (and) basicly what i said to a T was 'you sit there and you thump your Bible and say your prayers, and it didnt get you anywhere. You talk about your Psalms. You talk about John 3:16. Well, Austin 3:16 said I just whipped your ass!' It was completely adlibbed." Whether it was ad-libbed or scripted doesn't matter. It stuck and stuck royally. Austin 3:16 signs, shirts, bumper stickers, buttons, posters-- you name it-- were beeing sold! He was not only becoming a wrestling hero, but also a marketing champion. All because of a statement he made after a grappling victory. No one could have predicted that this former dockworker/college football star would have made such a tremendous impact on the wrestling industry. His success in mind-boggling because he doesn't have a gimmick, and he isn't the biggest wrestler in the WWF either. While he is 6"2' and weighs 252 pounds, those numbers can't even compare to such monsters as The Undertaker, who's 6"10' 328 pounds, or his scary looking brother,Kane, who's 7", 326 pounds. Hell you want huge? How 'bout The Big Show, who rumbles in at 7"2', and 500 pounds? You would think that Austin wouldn't stand a chance against these mammoths, but as the saying goes, you can't judge a book by its cover. As a matter of fact, Austin is a man who doesn't live by anyone's book or rules, and his boss and WWF owner, Vince McMahon, found ot the hard way! McMahon should have known that once the bald badass set foot into his federation Austin wouldn't be pushed around. His comments from when he first signed on with the WWF should have made that perfectly clear: I'll tell ya what, McMahon and the rest better not try to put me in many tags or try to kiss up to me like we're friends or something. I'll go right up to that office and open a whole 6-pack of whoop ass." And in the days and years that followed, he held true to those words. Many an opponent fell victim to his lethal "Stone Cold" Stunner, including McMahon. And you can bet your ass that there are many more victims to come. Though "Stone Cold" is a man of few words, his fans hang on to whatever he utters as gospel, and he likes to do his talking in the ring. He also likes to take matters into his own hands. He livesby the DTA motto of "dont trust anyone," and so far in his career, he has stuck to his guns. One particular incident that he took into his own hands came about in November 1999 at The Survivor Series when he was mowed down by the speeding car of an unknown driver. The accident not only nearly cost him his livlihood, but also his life. He vowed to get revenge on the coward behind the wheel. The driver knew that he or she couldn't beat him on the mat, so he or she took an unsuspecting Austin out with a car on that unfortunate night. The Plot was played out in "who shot JR?" fashion with the WWF listing the suspects upon Austin's return in September 2000. But the Texas Rattlesnake took this as neither joke nor plot, he took it "Stone Cold" serious. He vowed to fin this person and give them the biggest ass whooping of his or her life. Was it his best friend, Jim Ross? Was it Stephanie McMahon-Helmsley, the wife of Triple H, whom Austin was chasing the night he git hit? Was it The rock, who has never defeated SCSA and who also once threw Austin off a bridge? Was it The Big Show, who got his chance at winning the WWF world title belt that nigh only because Austin wasn't there to participate? Or was it the federation owner, Vince McMahon, who was trying to rid himself of a problem-child employee? The case in point here was that it didn't matter who it was. Whether it was his arch rival or his best friend, it didn't matter. Austin was on a mission, and he was bound to get the sorry ass, no matter what it took for SCSA to get even. He was prepared to fight the odds and whoever else got in his way. This is the way it's been ever since Austin got into the wrestling business. He has made a lucrative living out of never leaving any unfinished business. So far in his illustrious career, "Stone Cold" has compiled 4 WWF world titles, 2 Intercontinental belts, and 3 WWF tag straps. He also holds the Royal Rumble title from 1998 and the King of the Ring from 1996.Earlier in his wrestling career, he won both titles in the WCW that included th TV, tag and U.S. belts. Austin won his first WWF world title against "THe Heartbreak Kid" Shawn Michaels on March 29, 1998, in Boston, Massachusetts, at Wrestlemania XIV, and fromthen on he became a marked man. McMahon threw everyone imagineable in Austin's way to try to knock him off his perch, but usually Austin found a way to get the W. Even the ones who beat him usually didn't have very long to celebrate. Take Kane, for instance. The Big Red Machine manged to beat "Stone Cold" one night ( June 28< 1998) at a First Blood Match in a King of tthe Ring even held in Pittsburg, Pennsylvania, thus becoming the new WWF champ. But the taste of victory didn't last long as Austin defeated the mask-wearing wrestler the very next night in Cleveland, Ohio. The bottom line here is, as long as STeve Austin is healthy, no one-- good or evil-- will ever get in his way. So they should all stay the "Hell,Yeah!" out of his way because "Stone Cold" says so!

click here for some history on your favorite wreslters, Choose your poison: Bam Bam Bigelow

Booker T

Big Show

Y2J

Buff Bagwell

HHH

Sting

Bret Hart

Undertaker

Hulk Hogan

The Hardy Boys

Jeff Jarret

Billy Kidman

Kevin "BIG SEXY" Nash

Scott "Poppa Pump" Steiner

Dwayne "THe Rock" Johnson

Lance Storm

X-Pac

Too Cool

Rey Mystrio JR

Kane

Diamond Dallas Paige

The Dudley Boys

Kurt Angle

Ric Flair

Big Boss Man

Shane " The Franchise" Douglas

Edge and Christian

David Flair

Mick Foley

Bill Goldberg

Eddie Guerrero

Tazz

"Playboy" Buddy Rose

Many more to come as you read these!



Here are my other links to other results:

click here for your Raw results!



click here for the Nitro results!



click here for your real names and history part 2 report!



click here for your wcw report!



click here for your ecw report!



click here for the wcw pay per view stuff!



click here for the wwf pay per view stuff!



click here for the ecw pay per view stuff!



click here for the Smackdown results!



click here for your WWF Jakked results!



click here for rumors and news!



Click here for some old memories of some matches!