click here if you wanna win some stuff?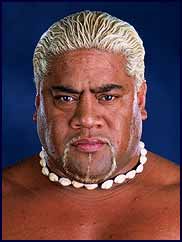 Here is Rikishi's Autobiography:

Real Name: Solofa Anoia Height: 6'1 Weight: 401 lbs. Finishing Move: Bonzai Drop Major Titles Held: WWE Intercontinental Championship, WWE Tag Team Championship Rikishi comes from a family with a rich wrestling history. Some of his relatives include Afa and Sika, Peter Maivia, Jimmy "Superfly" Snuka, The Tonga Kid, Mr.Fuji, Samu, Yokozuna and The Rock. The first time he went to Madison Square Garden (where The Tonga Kid and Snuka fought Rowdy Roddy Piper and Bob Orton), he decided that he wanted to be a professional wrestler. He went into training for a few years and debuted with his cousin Samu as The Samoan Swat Team. The SST joined the World Class Wrestling Association in Texas in 1987. This is where they first gained a taste of success and fame by winning the WCWA Tag Team Championship on three occasions. They were signed by the NWA to join their tag team ranks. When they were brought in, they feuded with both The Road Warriors and The Midnight Express. They were managed by Paul E Dangerously and were soon joined by a third member, The Samoan Savage. After some success in the NWA, The SST left in 1990 and returned to the independent circuit. They joined the WWE in 1992 as The Headshrinkers, with Afa as their manager. They feuded with mid-card teams such as High Energy and The Bushwhackers. They beat some of the top teams in those early months as well, such as The Natural Disasters. They had a great match with The Steiners at WrestleMania 9. During the summer of 1993, The Headshrinkers feuded with, and often beat, The Smoking Gunns. They seemed like they were almost forgotten when they received their chance to become WWE Tag Team Champions when they faced The Quebecers in April 1994. They won the match and in the process, became baby faces for the first time in their careers. They defended their titles throughout the summer against teams like Yokozuna and Crush and Bam Bam Bigelow and IRS. They lost their belts at a house show the day before SummerSlam 94 to Shawn Michaels and Diesel. Samu soon left the WWE and was replaced by Sionne (The Barbarian). Fatu and Sionne were unsuccessful in their attempts to regain the WWE Tag Team Championship. Fatu spent most of 1995 on the sidelines until the fall, when he was brought back as "Ghetto" Fatu, who would tell kids to stay in school and stay away from drugs. He was not as over as the WWE would have liked. The fans were starting to want a new attitude from their Superstars, not the same old baby face routine. Fatu was transformed into The Sultan, an Arabian wrestler. He wore a mask but it was obvious that he was Fatu. He was managed by The Iron Sheik and Bob Backlund. He beat guys like Jake "The Snake" Roberts and Barry Windham. He received a WWE Intercontinental Championship match at WrestleMania 13 against Rocky Maivia, but lost the match. The WWE realized that Fatu could not get over with the crowd and he was released. He returned to the indy circuit and even made an appearance on The Heroes Of Wrestling PPV, teaming with Samu to beat Tommy Rogers and Marty Jannetty. He returned to the WWE a few weeks later, this time repackaged as Rikishi Phatu. He was a sumo wrestler-type, who wasn't really a heel or a face in the beginning. He became a face by saving Too Cool from an attack and his popularity soared from there. He faced Triple H on Smackdown in January 2000 in a great match that he won by DQ. He was dominant in the Royal Rumble but was eliminated by everybody in the ring. Rikishi remained on the tag team scene, teaming with Kane at WrestleMania 16 and teaming with Too Cool on the following PPV's. Rikishi made it to the King Of The Ring pay-per-view by beating Shane McMahon and Scotty 2 Hotty. At the PPV, he beat Chris Benoit by DQ and pinned Val Venis to make it to the Finals, where he lost to Kurt Angle. Rikishi won the WWE Intercontinental Championship from Chris Benoit and only held it for a few weeks before losing to Val Venis. They met in a Steel Cage Match at Fully Loaded 00, which was memorable for Rikishi jumping from the top of the cage. Rikishi moved into a brief feud with The Right To Censor. He was then revealed to be the mystery driver of the car that struck Steve Austin the year before at Survivor Series. Rikishi was now a heel and was involved in a feud with Austin, the top face in the company. Austin dominated the feud as Rikishi tried to persuade The Rock to join him in an alliance. The Rock refused and Rikishi attacked him, leading to The Rock beating him at Survivor Series 00. He was part of the six way Hell In A Cell Match at Armageddon, where he took a bump from the top of the cage onto a flatbed truck. Rikishi took a few weeks off to let some injuries heal. When he returned, he teamed with Haku in a brief feud with The Undertaker and Kane. Rikishi disappeared again, only to resurface for one week, where he turned on Mr. McMahon and lost to William Regal at Judgment Day 01. Rikishi took most of 2001 off to let nagging injuries heal. When he returned, he returned to the fans' favor when The Rock shoved Mr. McMahon's face into Rikishi's ass. Rikishi was mired in the mid card, not having a meaningful feud since he returned. He made an appearance in the Royal Rumble but was not on Pay-Per-View again until Judgment Day. He and a mystery partner were scheduled to meet Billy and Chuck for the WWE Tag Team Championship. The partner turned out to be Rico, Billy and Chuck's stylist. They won the Tag Team titles and defended them at house shows against the former champs. However, they dropped the belts to Billy and Chuck on Smackdown when Rico turned against Rikishi. Rikishi could be a top draw in the WWE if he was put into the right program. The fans cheer for him whether he is in a feud or not. He is one of the few that does not need a title to get over. It's time to see how far this massive Superstar can go in the WWE. Pay-Per-View Appearances 1989 As Samoan Swat Team with Samu Great American Bash 89 -with The Freebirds (Hayes, Gordy and Garvin) lost to Steve Williams, The Midnight Express and The Road Warriors in a War Games Match Halloween Havoc 89 -with The Samoan Savage beat Steve Williams and The Midnight Express Starrcade 89 -beat Doom; beat The Steiners by DQ; lost to The Road Warriors 1992 As The Headshrinkers with Samu Survivor Series 92 -beat High Energy 1993 Royal Rumble 93 -participated in Royal Rumble WrestleMania 9 -lost to The Steiners King Of The Ring 93 -with Money Inc lost to The Steiners and The Smoking Gunns SummerSlam 93 -with Bam Bam Bigelow lost to The Smoking Gunns and Tatanka Survivor Series 93 -with Bam Bam Bigelow and Bastion Booger lost to Men On A Mission and The Bushwhackers 1994 Royal Rumble 94 -participated in Royal Rumble King Of The Ring 94 -beat Yokozuna and Crush (WWE Tag Team Championship) SummerSlam 94 -lost to IRS and Bam Bam Bigelow by DQ with Sionne as The Headshrinkers Survivor Series 94 -with The British Bulldog, 123 Kid and Razor Ramon beat Diesel, Shawn Michaels, Owen Hart, Jeff Jarrett and Jim Neidhart. 1995 Royal Rumble 95 -participated in Royal Rumble In Your House 4 -lost to Hunter Hearst Helmsley Survivor Series 95 -with The Undertaker, Henry Godwinn and Savio Vega beat Jerry Lawler, King Mable, Dr. Isaac Yankem and Hunter Hearst Helmsley 1996 Royal Rumble 96 -participated in Royal Rumble 1997 WrestleMania 13 -lost to Rocky Maivia (WWE Intercontinental Championship) 1999 Heroes Of Wrestling -with Samu beat Marty Jannetty and Tommy Rogers Armageddon 99 -with Viscera lost to Hardcore and Crash Holly 2000 Royal Rumble 00 -participated in Royal Rumble No Way Out 00 -with Too Cool beat Perry Saturn, Chris Benoit and Dean Malenko WrestleMania 16 -with Kane beat X-Pac and Road Dogg Judgment Day 00 -with Too Cool beat Edge and Christian and Kurt Angle King Of The Ring 00 -beat Chris Benoit by DQ; beat Val Venis; lost to Kurt Angle in KOTR Finals Fully Loaded 00 -lost to Val Venis in a Steel Cage Match (WWE Intercontinental Championship) SummerSlam 00 -with Too Cool lost to Steven Richards, Bull Buchanan and The Goodfather Unforgiven 00 -lost to Eddie Guerrero by DQ (WWE Intercontinental Championship) No Mercy 00 -fought Steve Austin to a no contest Survivor Series 00 -lost to The Rock Armageddon 00 -lost a six way Hell In A Cell Match that also included Kurt Angle, Steve Austin, The Undertaker, The Rock and Triple H (WWE Championship) 2001 Royal Rumble 01 -participated in Royal Rumble Judgment Day 01 -lost to William Regal 2002 Royal Rumble 02 -participated in Royal Rumble Judgment Day 02 -with Rico beat Billy and Chuck to win WWE Tag Team Championship Major Titles Held WWE Intercontinental Championship -beat Chris Benoit (June 20, 2000) -lost to Val Venis (July 4, 2000) WWE Tag Team Championship -with Samu beat The Quebecers (April 26, 1994) -with Samu lost to Shawn Michaels and Diesel (August 28, 1994) -with Rico beat Billy and Chuck (May 19, 2002) -with Rico lost to Billy and Chuck (June 4, 2002) Well if you know of any moments in wrestling history please let me know and i'll post it here along with your top ten list too! click here to email me your list and moments!

ok if you have any questions to ask me or want to find them out try my next page

click here for some history on your favorite wreslters,Choose your poison:

BamBam Bigelow

Booker T

Big Show

Chris Benoit

Y2J

HHH

Bret Hart

Undertaker

Hulk Hogan

Sting

Steve "Stone Cold" Austin

The Hardy Boys

Jeff Jarret

Billy Kidman

Kevin "BIG SEXY" Nash

Scott "Poppa Pump" Steiner

Dwayne "The Rock" Johnson

Lance Storm

X-Pac

Too Cool

Rey Mystrio JR

Kane

Diamond Dallas Paige

The Dudley Boys

Kurt Angle

Ric Flair

Big Boss Man

Shane " The Franchise" Douglas

Edge and Christian

David Flair

Mick Foley

Bill Goldberg

Eddie Guerrero

Tazz

Ricky "The Dragon" Steamboat

Cheif Wahoo McDaniels

Greg "The Hammer" Valentine

Roddie "HotRod" Piper

Bobby "The Brain" Heenan

DaveyBoy Smith

Shawn Michaels

Brock Lesnar

"Lord" Steven Regal



Many more to come as i am working on them as you read these!

My other results from the weeks shows: click here for the Raw results!



click here for your wwe sunday heat report!



Velocity & Confidential results!



click here for your history and real names report!



click here for the wwf pay per view stuff!



click here for the Smackdown results!



click here for rumors and news!



NWA-TNA weekly PPV!